My life's purpose is to use my energy and influence to mindfully connect with and inspire others so they can rewire their mindset to reduce stress, upgrade health & happiness, find purpose, develop resilience and lead others on the same path.
As a Mindfulness and Mindset coach, I help business professionals and children reduce stress and upgrade and health and happiness.
"Stress" has been dubbed the "Health Epidemic of the 21st Century" by the World Health Organization. Seventy-five percent to 90% of all doctor's office visits are for stress-related ailments and complaints.
To get results for my clients, I have crafted and condensed my 12-year study and practice of mindfulness and meditation combined with a 3-decade health and wellness journey to develop my 8 Week REWIRE Program.
The REWIRE program has 5 Pillars: Reinvent, Reorganize, Reinvigorate, Reprogram and Release. The program is individually customized to get you life-changing results and save you time and frustration:
Reducing stress
Finding Greater resilience
Feeling better
Sleeping better
Increasing your energy and vitality
Creating greater joy, meaning, and purpose
Improve health and wellbeing
Improving self-awareness and connection from inside out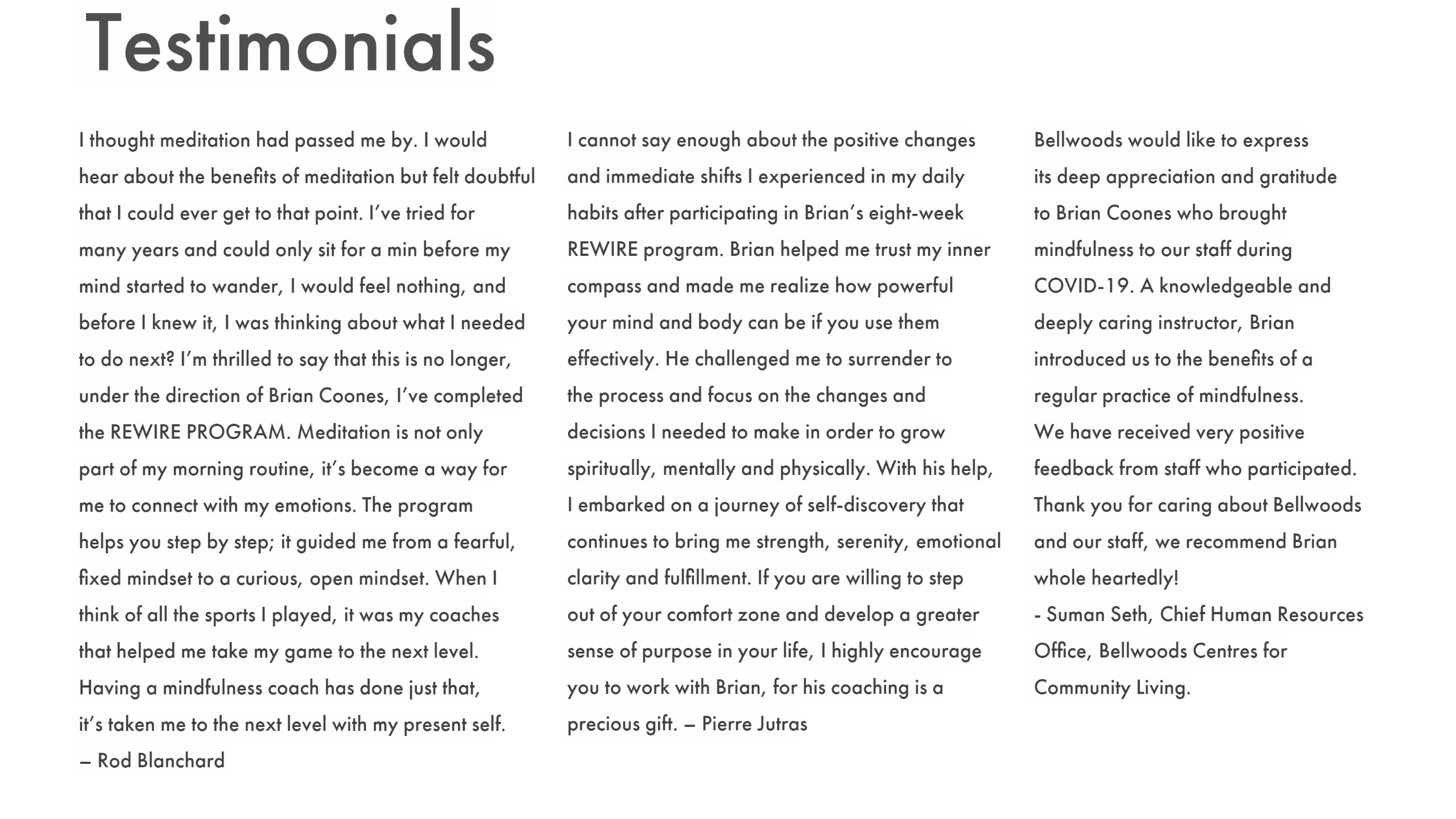 Time is our most precocious commodity, yet the vast majority of us ignore our mortality and live unconsciously stuck in auto-pilot patterns. Our life is an opportunity to grow spiritually and become self-aware. An opportunity to face our fears and express who we truly are – to unwrap our own unique gifts. Don't wait for a catastrophic event to wake up and change the patterns that no longer serve you. The living moment is NOW. Are you living your best life moment by moment every day?
You are the artist that shapes the force of life flowing through you. If you don't like your art, you have the power to recreate your design.
Brian Coones