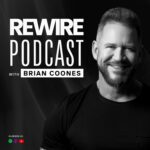 Why is there so much dis-ease and anxiety going into the new decade? Gary returns to the podcast to talk about the level of noise we are subjected to and how it has never been greater.
Living at zero decibels is about reducing the noise that distracts us from our purpose and joy. Noise can be categorized as physical noise (health, environment), mental noise (limiting beliefs, fears), emotional noise (not forgiving, judgement) and spiritual noise (tech, loneliness, individualism).
Gary walks us through a theory he has developed that illustrates how to 'nudge' us along and break through the point of inflection in our lives that can be defined as a midlife crisis.